Store Smørstabbtind (2,208 m above sea level)
It is 5 km to the top via a moderately difficult route from the road at Krossbu. You need approx. 5 hours to get up and come back down in summer conditions. Store Smørstabbtinden is 2,208 m above sea level and you start at 1,260 m above sea level. You follow the path towards Leirbreen, then to the north-east and up to Leirvatnet. You will pass this on the south side before continuing on a slightly steeper slope towards the north side of the summit. It is not particularly demanding but climbing irons and an ice axe can be useful in winter and spring. The route is clearly marked on the map. We wish national teams, clubs and the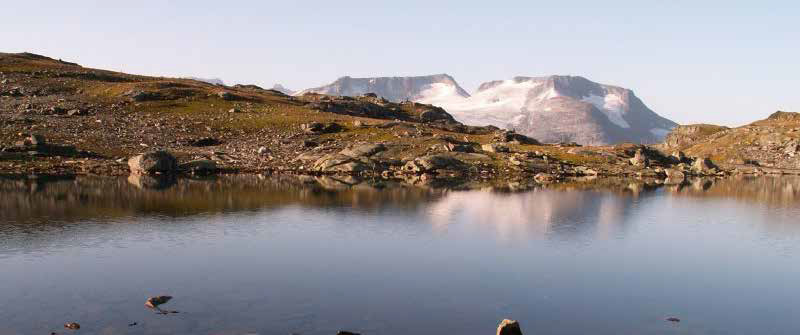 Fannaråken (2,068 m above sea level)
a terrific trip to the top and glacier trip at the same time. The Norwegian Tourist Office arranges guided tours to Fannaråken glacier. You can book these at our reception. You meet the guide at the edge of the glacier at 13.00 and the guide will take you to the top. You need about two hours to reach the edge of the glacier. You make the return trip to Sognefjellshytta the following day.
Should you wish to make the trip on one day, your own guide can arrange this. Contact us if you would like your own guide. The day trip takes approx. 8-9 hours. This is a moderately difficult trip that suits most people. There is easy terrain for the first 5 km as you follow the path towards the glacier. On the glacier there is a 2 km uphill climb and then scree for the last 2 km.
As soon as you reach the glacier you get a fantastic view of Hurungangane. This just has to be seen. The route between Sognefjellshytta and towards the edge of the glacier is clearly marked and leads along the east side of Prestesteinsvannet. Accommodation is available at Fannråken in magnificent surroundings.